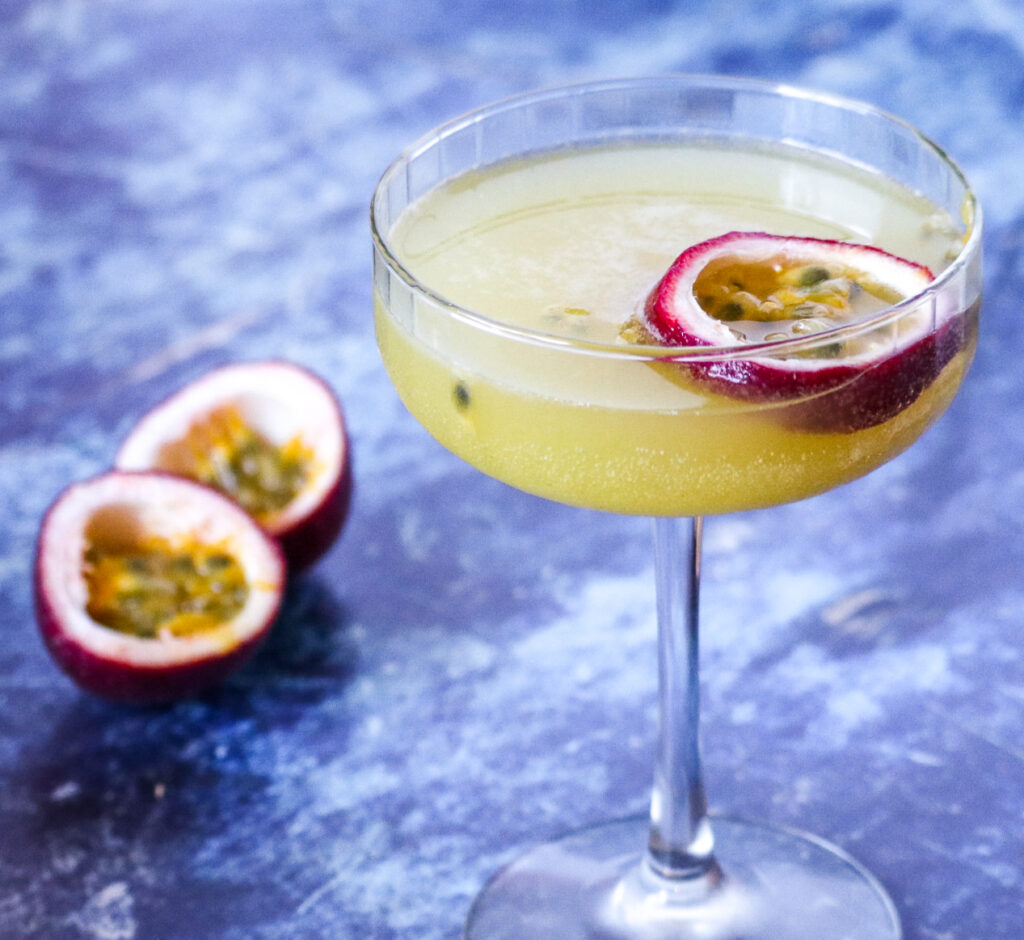 A tropical, refreshing twist on one of the most traditional cocktails! You can use fresh passion fruit or store-bought passion fruit puree for this recipe, it will be delicious either way. My favorite thing about making a cocktail at home is you can make it just how you like it! I wrote this recipe the way I like it, but you can always add more or less juice and simple syrup to make it as sweet or tart as you want.
Gin or vodka: You can make a martini with either of these! I personally prefer gin, so I usually use that. But, it is delicious with both.

Passion fruit (or passion fruit puree): I love making this cocktail with fresh passion fruit, but they're not always easy to find! Most large liquor stores (like BevMo, Total Wine and More, etc) will carry passion fruit puree.

Lime: A little lime juice adds the perfect amount of tartness!

Simple syrup: Make it at home or buy it, doesn't make a difference!

Sparkling wine or champagne: You don't

need

to add this to have a delicious cocktail, but I've had this martini with and without sparkling wine, and I definitely prefer with!
What is a martini?
A traditional martini is made with gin and vermouth, but it can also be made with vodka. This cocktail (and most drinks that call themselves a "martini") uses the term "martini" loosely, but I tend to use it to describe anything that is mainly gin or vodka and served straight up.
Gin or vodka?
A classic martini is made with gin, but in the end what you use is up to you (the beauty of making your own cocktail). Gin is more botanical and is juniper-forward. Vodka has a much more neutral flavor. I prefer gin to vodka overall, and this recipe is no exception. However, that's just my taste! Make it with whichever you prefer (or whichever you have on hand!).
Equipment needed for this recipe:
Cocktail shaker (if you don't have one, you can use a sealable container like a mason jar)
How do you make simple syrup?
If you want to make your own simple syrup, it's very easy. Just pour equal parts water and sugar into a saucepan on medium heat. Stir until sugar is dissolved and remove from heat. That's it!
How to make this recipe:
Add ice, gin, lime juice, and simple syrup to a shaker.

Cut passion fruit in half and scoop out the juice and seeds with a spoon into the shaker.

Secure lid and shake vigorously

Strain into your glass

Top with sparkling wine and enjoy!
If you like this recipe, you might also like:
Passion Fruit Martini
A tangy, tropical cocktail that's easy to make!
Ingredients
2

oz

gin or vodka

1

passion fruit or 1 oz passion fruit puree

½

oz

lime juice

½

oz

simple syrup

1

oz

sparkling wine or champagne
Instructions
Fill a cocktail shaker with ice. Pour in gin or vodka, simple syrup, lime juice, and passion fruit puree if using.

If using fresh passion fruit, cut in half and scoop out juices and seeds into the shaker.

Secure shaker lid and shake vigorously.

Strain mixture into a martini glass and top with sparkling wine.

Serve and enjoy!